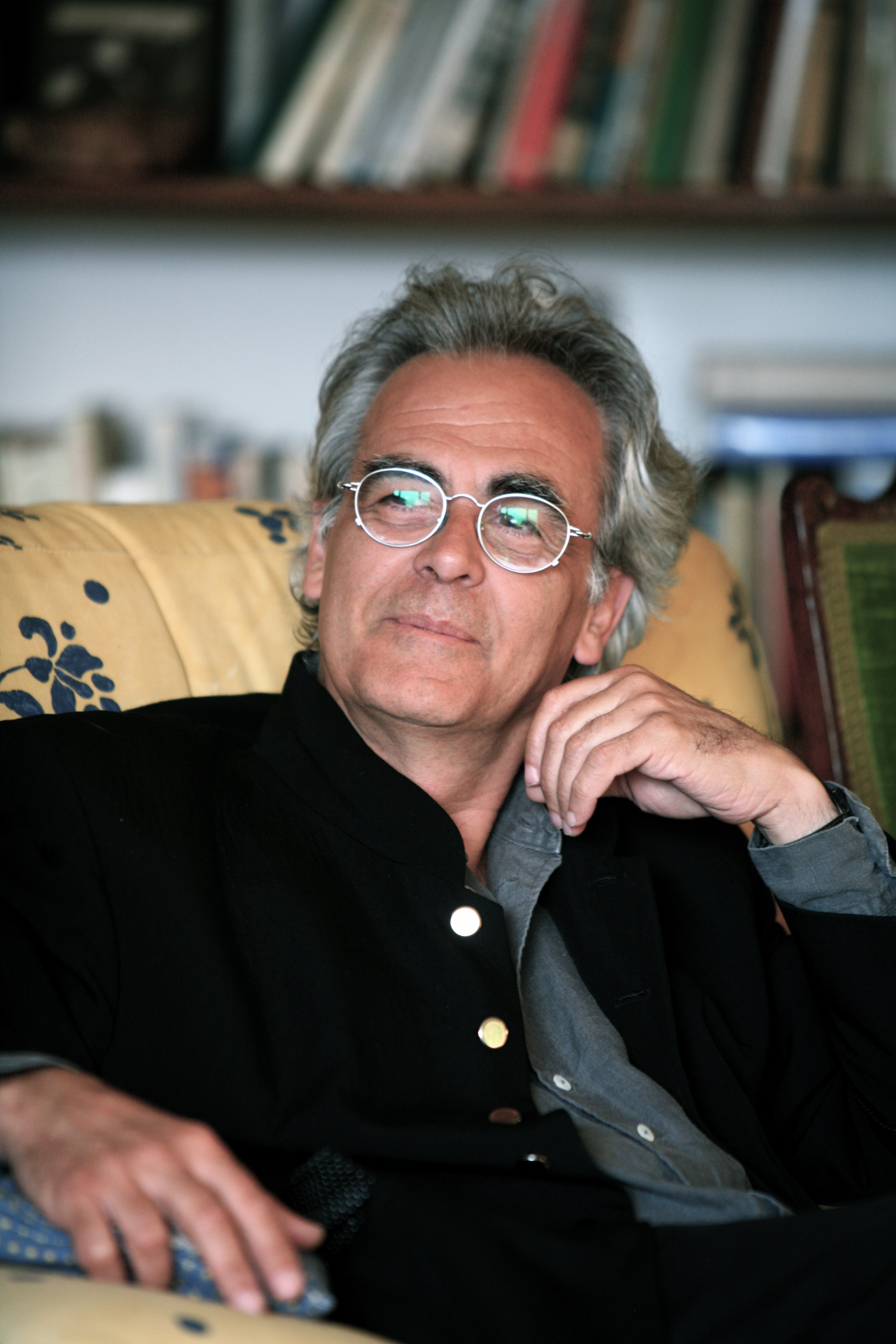 I understand painting and all of the visual arts that I practice, essentially, as a means of making poetry with images. Poetry expressed through form, words, sounds or movement. Poetry also charged with the sensorial, in which beings and objects are caressed by the gaze, are touched, smelt, simply are there. There is mystery, suspense, something is happening in every scene, because scenes are, sometimes, of an instant held fast so as to make it eternal. Not as a fleeting snapshot of the real but an affirmation of the endless continuity of experience. Vermeer's milkmaid never finishes emptying her pitcher, it flows perpetually and that flow waits for us to understand the wonder of what it is to flow, that flow that tells us: "You think you've grasped it all? Well, no. I am still here, I continue to flow and I continue to fascinate you." This paradox is what drives my painting.
As a painter not trained in academia, launching myself into the conquest of the profession meant seeking it out in museums all over the world, in the workshops of the masters of contemporary painting, as well as in research centers for new technologies. I have paid close attention to the currents of contemporary art and still do not subscribe to any particular ism. I think I would paint the same way even if I were born 400 years ago or a hundred from now. My learning process is in every work and in the way that each one discovers itself. And so while in art schools they teach that a landscape should be horizontal and a portrait should be vertical, I, without considering these classical dictates, find myself making vertical and round landscapes, as well as creating what I call "moral form" works, polyptychs that crop off and fragment, spreading into space like a cinematographic panning out in all directions, always according to their essential need for composition and pictorial experience.
This is the route that, as long as I can remember, I have taken in creating my work, whether in painting, sculpture or my video installations. Always captivated or amazed by the variety of possibilities that open up in realizing a visual poem with no other resource than the image. That is, to show the pre-verbal essence of everything visible prior to language, prior to the idea or even to thought, that place we are only able to reach with a humble paintbrush. All this is why I take up, amid this secular and mechanized world, the beautiful profession of painting by hand and by memory, allied with the "sister clumsiness" that allows us to recognize ourselves as human beings and to never stop yearning.
Out of this precarious enterprise, stubborn and loving, my paintings, my sculpted stones, even my multidisciplinary installations are born like small miracles. A body of work that, as San Augustine succinctly put it: "If no one asks me, I know. If I try to explain it, I know not." And it is fine that way, above all for me and also for anyone else who wants to enjoy it.
Fernando de la Jara
The Painting
of

FERNANDO DE LA JARA
Eagerness of wonder.
Delicate sensitivity and exquisite recreation of the sensitive.
A manner of poetry, with forms and colours,
in constant evolution, from the complex to the simple.
A purity of line that mesmerizes and enchants.
Within the western tradition,
expression of an essentially Latin American sensibility,
Peruvian, Limeña, with Nordic traces from Europe
and nostalgia for the Mediterranean.
Now and forever
– between the child and the adolescent-
amazement at the mystery of things.
Attention to detail,
meticulously recreated for the pleasure of miracle,
from the visible to the invisible.
Fascination for embroideries and underskirts.
Exaltation of the damsel,
gate to garden of delights illuminated.
Realistic, yet re-creates reality
only as it resonates in his heart
-in this way going through abstraction. Fragile creation,
in this contemporary world where resonance is avoided.
"May nothing resound within our hearts"
seems to be the common message.
Gallant painter, how he feels the wonders life lets him see;
so candid, so seductive!…
Using brushes and colours, mostly in oils,
he paints with love and rhythm; in the last years,
he resorts to Greek wisdom in painting
and learns with Polignoto.
His colour fasting; a banquet of harmony.
There is something there like an unravished promise of spring.
Symeon
September 4th 2001
Puri, Bali
Heterodoxy and Permanence
Fernando de la Jara
Heterodoxy in the art world is often a solitary and rocky road. But without those original artists, determined to travel that road in their own way, the very History of Art would be nothing more than a modulated succession of transitory tendencies. A standard encephalogram, alive but lacking peaks and summits. Giorgio Morandi, Balthus, Edward Hopper, Georgia O'Keefe, Frida Kahlo, De Chirico, Louise Bourgeois, El Bosco, El Greco, all toiled long misunderstood or long undervalued, creating worlds of their own through their art.
On that unbeaten path we can situate the work and personality of Fernando de la Jara (Lima, 1948).
"In today's world, where two-dimensional painting is the target of reductive readings when compared with other visual media whose images exist in motion, Fernando de la Jara is an exceptional case among creators," writes the critic and curator Jorge Villacorta. "De la Jara sees himself above all as a painter, both by calling and conviction. Nevertheless, art for him is not merely his own subjectivity but the world of experimentation and the discovery of vital coordinates. The world that is his own, which he constructs each day putting preconceptions concerning the art of painting to the test, is based in an ethically adopted practice of employing figurative representation to reintroduce the surprise of a gaze that strives to recover and reflect upon the real, and in doing so, to give it new meaning."
Another distinguished intellectual and art critic, Mirko Lauer, writes: "Fernando de la Jara is an artist who has pursued truth and beauty through strange times and spaces. (…) It is he who has created, among all the figurative painters of our Republic's history, the most varied, eloquent and hermetic world of representations. The visual impact of his realism is at the service of stories that are always disquieting, always poetic. Viewed as a whole, De la Jara's work exudes unheimlichkeit, in the sense of estrangement in the face of a world born of wonder. His paintings elicit the spectator's complicity, but they do so without ever fully revealing their secrets."
True heterodoxists are not always easy to recognize. Their transgression and strangeness emanate from a personal calling, not by calculated strategy. It is advisable, then, not to give in to the facile notion of evaluating this artist according to the recalcitrant logic of those who feel nostalgic of realist painting for its own sake. Conservators of essences already withered. The work of Fernando de la Jara is based not only in the appearance of reality but in its meaning, in its depth and mystery. This is why he is inspired, not ingenious. Knowledgeable and studious of the painting profession and, for this very reason, removed from hollow virtuosity. Open to the wellspring of what he calls "sister clumsiness," accepting imperfection when necessary to bolster pictorial precision. Approaching his work requires an unhurried gaze, a spectatorial complicity. It is painting to be seen, to be lived with.
Perhaps the time has come for painting to come out of the corner, according to Jerry Saltz, veteran – and heterodox – art critic for The New Yorker and The Village Voice. In his recent review of the Whitney Museum's Biennial, he concludes: "The biggest overall weakness of this Biennial is painting. (…) This is a big missed opportunity that sadly neglects the extraordinary liveliness now afoot in the medium. What is it about curators these days that makes them unsure of or oddly averse to or put off by painting's much older, more chemical-based psychic alchemies? This academic prejudice needs to end."
In one way or another, art is about discovery. And it is increasingly necessary to sharpen one's gaze and perception to discern between what is original and what is derivative. De la Jara is an artist who can be discovered and revealed time and again in every work.
Fietta Jarque, Writer

1977
Galería Yvonne Briceño, Lima, Perú.
1981
Galería Yvonne Briceño, Lima, Perú.
1988
Galerie der Volksbank Eichstätt
Spanisches Kulturinstitut München.
Der Kanon des Windes.
Haus des Gastes – Eichstätt – Alemania.
1989
Galeria Sa Pleta Freda, Mallorca.
Curada por Miguel Cervera,
Director de la Fundación Joan Miró, Mallorca.
1990
Galerie Micado, Bonn.
1991
Galerie Glasnost, Nürnberg.
1992
Galerie Altes Feuerwehrhaus,
Kreuztal Galerie ZAK,
Herford Galerie des Kulturamts, Maintal/Frankfurt.
1995
Galerie im Schloss Bad Pyrmont, Bad Pyrmont/ Hannover.
1997
I Bienal de Arte de Lima, Perú. Invitado especial.
1999
Consultoría de Arte Lucía de la Puente, Lima, Perú.
2002
Museum an der Stadtmühle, Pappenheim.
2003
Stadtmuseum, Gunzenhausen.
Stadtmuseum, Bad Tölz.
Kloster Heidenheim, Heidenheim.
2004
Schloss Windthurn, Windthurn.
Galerie am Eichholz, Murnau.
Galerie am Neuen Rathaus, Weißenburg.
2006
KunstMuseum Donau-Ries, Wemding.
2007
Consultoría de Arte
Lucía de la Puente, Lima,Perú
2008
Galerie Schüller, München
2009
Salon Clemensstrasse 9, München.
2009
Galería Lucía de la Puente, Lima.
Tú Eres Piedra, Sala de proyectos especiales
2010
Salon Clemensstrasse 9, München.
Sommerausstellung
2010
Alte Schranne, Nördlingen.
Ausflug
2010
Galería de Arte del Cultural Peruano Norteamericano, Arequipa.
Pintura Poesía
2011
Galería Lucía de la Puente, De la Jara – Poesía Visual.
Lima, Perú
2011
Centro Cultural Inca Garcilaso
del Ministerio de Relaciones Exteriores del Perú.
Conversación en silencio
(con la poesía del poeta Perúano-griego Hieromonje Symeon)
2012
Salon Clemensstrase 9, München.
2013
Galerie Dr. Erdel, Regensburg.
Der Magische Moment
2015
Galería Enlace, Lima.
Celebración
2017
Tage des offenen Ateliers, Oettingen.
2019
Galería Enlace, Lima, Perú.
El deseo y la memoria